How to get into Top Business school: The Free Guide
Our professional editors made the guide to help you to cope with the MBA admission process.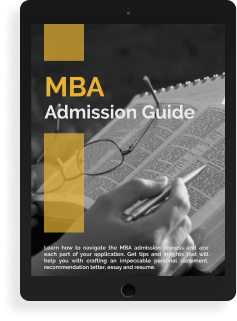 What is in the guide?
The Information Based on More Than 20 Years of Experience of Our Professional Editors
Comments from the Admission Tutors on How to Maximize Your Chances of Being Accepted
The List of Documents You Have to Prepare for the Admission Process
Essential Information to Know for International Applicants
Specific Tips on Writing Personal Statement Essay
Guideline on Writing the MBA Essay
Tips on How to Grab Admission Tutor's Attention
Clues on Statement of Purpose Writing Process
Perfect Structure to Have a Great MBA Resume
Hints to Have a Valuable Recommendation
And More Crucial Information For Your Successful Admission
Types of documents
Need more personalized assistance? We can help!
EssayEdge has helped thousands of students get into their dream schools by providing one-on-one advising, essay editing services, and more. Our editors are former students of Ivy League Universities, so they know what it takes to get admitted. Over 20 years of editorial experience to help you deal with any issue. For more information, please check out our services and types of documents we can help with: