How to prepare required documents to apply to medical school: The Free Guide
Our professional editors made the guide to help you to manage the Medical admission process.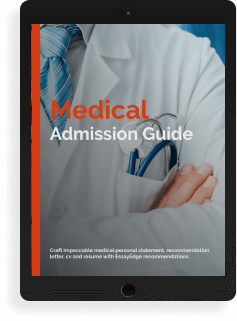 What is in the guide?
The Information Based on More Than 20 Years of Experience of Our Professional Editors
The List of General Requirements for the Admission Process
Significant Difference Between the Types of Medical Essays
Guide on the Personal Statement Structure
Step by Step Instruction on Writing Personal Statement for Medical School
Tips for the Outstanding Personal Statement
Outline of Structure for Medical School Recommendation
Tips to Get a Great Letter of Recommendation
General Recommendations on Writing CV/Resume for Medical School Application
Clues on the Content and Structure of the CV/Resume
Types of documents
Need more personalized assistance? We can help!
EssayEdge has helped thousands of students get into their dream schools by providing one-on-one advising, essay editing services, and more. Our editors are former students of Ivy League Universities, so they know what it takes to get admitted. Over 20 years of editorial experience to help you deal with any issue. For more information, please check out our services and types of documents we can help with: